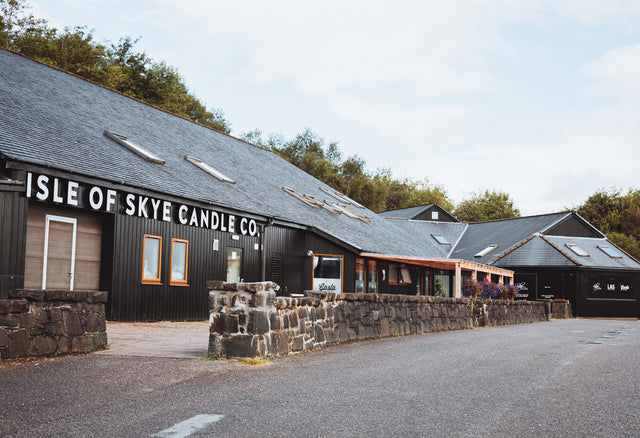 Isle of Skye Candle Co. Visitor Centre
Our new Visitor Centre is based in the main town in Skye, Port Righ or Portree as it's known in English.
We took over ownership of what was the Aros Centre in March 2022 and have spent the past year renovating the building. Not only has this allowed us to move our production to a much needed bigger space but we've also managed to squeeze in a pizzeria, wellness space, cinema and of course our flagship store.
We hope if you're on Skye you'll have a chance to Visit!
Isle of Skye Candle Co. Shop
We are delighted to have our newest store now open to the public. Our renovation of the Visitor Centre building has allowed us to make use of the fantastic space available to us and create a new beautiful shop to showcase our products.
Thursday - Tuesday Open: 9am - 8pm
Wednesday Open: 9am - 5pm
Fancy trying our new restaurant here at the Isle of Skye Candle Co. Visitor Centre?
Our new pizzeria is the perfect place for a handmade Neapolitan style pizza with your family before seeing a film, a catch up with friends over some casual drinks or quick a coffee and cake while you explore the Island.
Opening hours
Thursday - Tuesday: 9am - 9pm
Wednesday: 9am - 5pm
Pizza Served from 12pm
Last food orders at 8pm
Cinema & Theatre
Las is Scottish Gaelic for kindle, light, ignite, set alight! And that's exactly what we aim to do to the cinema, theatre and arts scene in Skye. Plus, what else would a candle company call their theatre?
In taking over Aros Centre in Portree we inherited the fantastic Cinema & Theatre, now known as Las. We've been showing a range of fantastic new films, as well as some classics and aim to bring live theatre and more live events to the stage very soon to entertain local audiences and visitors alike.
Check out the Las website to see what is currently showing and to buy your tickets.
An Stiùideo
The studio is a place of calm and tranquility here at our visitor centre. Bright and airy with natural wood finishes it's the perfect place to run yoga classes or group wellness sessions.
Intersested in running your own class? Click to see availability & book.
Find Us
Isle of Skye Candle Co. Visitor Centre
Viewfield Road
Portree
IV51 9EU