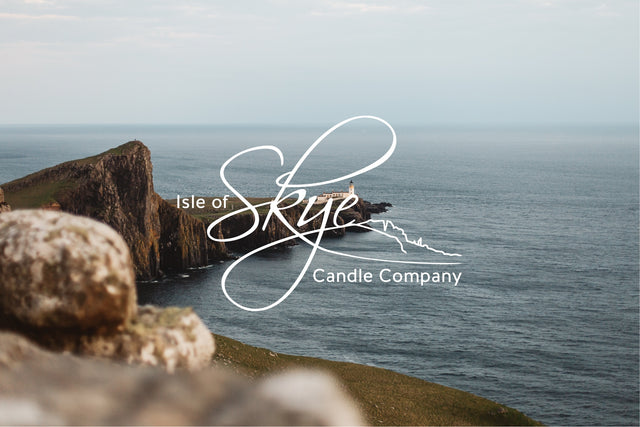 About Us
The Isle of Skye Candle Co is a family run business based on the beautiful Isle of Skye on Scotland's dramatic west coast. We specialise in producing world class natural, home fragrance products, inspired by our beautiful surroundings.
Founding Principles
"I started the Isle of Skye Candle Company back in 2006 aged just 19. I had just moved back to our family croft in the township of Gead an t-Sailleir on the east side of Skye, and was looking for how I could make a living so I could stay on the Island I love so much.
The idea for creating a candle company came to me when I was working for a local soap shop and discovered that there was no one making natural fragranced candles in the UK. At the time the only options for nice candles seemed to be ones made from paraffin. This didn't sit right with me as it didn't make sense why anyone would buy something that wasn't natural with no obvious benefits, if there was a natural alternative.
With this in mind I set out to create my own candles to try and make a product that would be good enough to get people to ditch these paraffin candles and use my healthier natural alternative. It took a good few years of research and development with different natural waxes and oil variations before I got to the point where I knew I had something special that people would love.
To this day we use the same mixes in our candles and even though we have expanded quite a bit since 2006, our company ethos and mission have remained the same; to create great products using the best quality natural products whilst creating good employment on our Island. Everyday I wake up and feel so lucky that I get to do a job I love, in a place I adore, working alongside friends, and am so proud that making natural products has led to all this.
Without the support of all our amazing customers through the years this would never be possible, and I hope that we can keep making great products to keep our customers coming back."
James Robertson
Founder, Isle of Skye Candle Co.
Our Island
Skye or an t-Eilean Sgitheanach (the winged Island) as it's known in our native Gaelic language, is known for its rugged landscapes, wild coastlines and rich history. The largest island in the Inner Hebrides archipelago, its home to around 12,000 people. Now a bustling tourist destination, the Island economy is pretty fragile and has only recently seen the population start to stabilize from a rapid decline. It's always been a sore point to have so many talented friends and family leave the Island to find work due to lack of opportunities here. Trying to change this has always been a major driver for us to grow and we will never stop trying. People and the community truly make a place special, and anyone who's ever been to the Highlands of Scotland and experienced highland hospitality will surely agree. There's a special connection and pride in calling the Hebrides our home and in our products we want to share a little piece of ours with you, whilst you help us to keep home, home.
Highland Inspiration
Although situated at 57 degrees North, Skye is privileged to enjoy mild weather for most of the year thanks to the warm air from the gulf stream. This in turn lets a huge range of plants, faunas & trees thrive and helps to give us the components for our fragrances. Every turn you take here its hard not to be inspired. With our products we want to try and take some of that inspiration to you. Nature and taking things slow is at the heart of life here on the Island. In this day and age, we all know we need to take more responsibility when it comes to the environment and nowhere is that more evident than Skye. Our endless coastlines make clear just how much humans have changed our world, with plastic and rubbish littering the shorelines. We know that most people actively want to change this and we aim to be a company that helps make this positive change. We think about reducing our environmental impact in everything we do not just because we think it's a selling point but because we actually care.
FIND OUT MORE