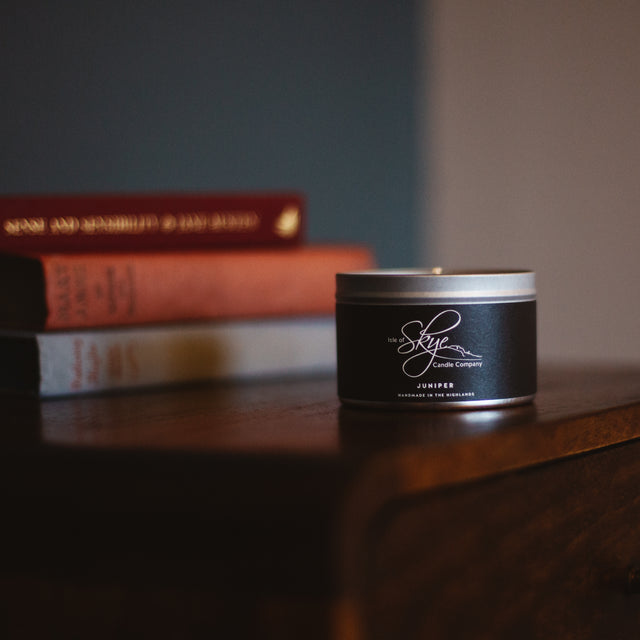 Juniper
The subtle woody aroma of the juniper leaf is the perfect choice to help you unwind and relieve exhaustion.
Scent info:
Juniper berry is well popular within the gin enthusiasts. We are using the oil from juniper leaves, utilising its relaxing and almost medicinal like scent for one of our most popular signature scents. It is one of our more subtle, and more neutral fragrances, inoffensive in nature, so we often recommend it for a present, particularly when you are unsure of the giftee's scent preferences.
Travel Containers
The perfect candle to take away on holiday with you. This candle will fill your room with a delightful homely scent, no matter where in the world you go. Burning for over 30 hours.

Are you a member of our loyalty club?
Join our loyalty plan – collect points with every purchase and choose your preferred discount or even a free T-shirt! We'll notify you of our new product releases and special offers. We don't spam. Sign up now to get 10% off your first purchase or click the 'check rewards' tab to find out your balance and new ways to collect extra points. If you would like to find out more, click here or get in touch with us!
READ MORE
Are you buying for a loved one?
You can't go wrong with gifting a beautiful candle or a reed diffuser. Take a look at our wee guide to help you pick the perfect scent.And don't forget to leave a personalised message in the cart section. We will happily include a handwritten note for you, free of charge.
CHOOSE YOUR CARD