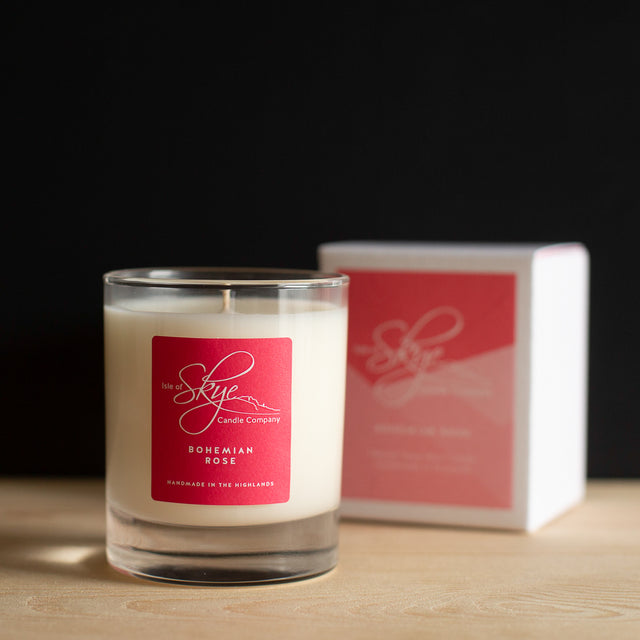 Bohemian Rose
Created by adding a dash of amber to subtly complement the rich rose undertones, this scent is ideal for those romantic nights in.
Scent info:
Our Bohemian Rose is a refreshing take on an elegant romantic classic, moving far far away from the powdery reputation old fashioned rose-y scents sometimes have. 
Thanks to our signature blend of natural ingredients, the scent is light and crisp, bringing out the best attributes of a floral fragrance. The Bohemian Rose is delicate yet lingering aroma, a great gift substitute for a bouquet of fresh cut roses.
Small Tumblers
The small tumbler is a fantastic addition to our Signature Range and an ideal gift for friends and family. It provides you with approximately 30 hours burn time and gives off a great scent throw too.

Are you a member of our loyalty club?
Join our loyalty plan – collect points with every purchase and choose your preferred discount or even a free T-shirt! We'll notify you of our new product releases and special offers. We don't spam. Sign up now to get 10% off your first purchase or click the 'check rewards' tab to find out your balance and new ways to collect extra points. If you would like to find out more, click here or get in touch with us!
READ MORE
Are you buying for a loved one?
You can't go wrong with gifting a beautiful candle or a reed diffuser. Take a look at our wee guide to help you pick the perfect scent.And don't forget to leave a personalised message in the cart section. We will happily include a handwritten note for you, free of charge.
CHOOSE YOUR CARD