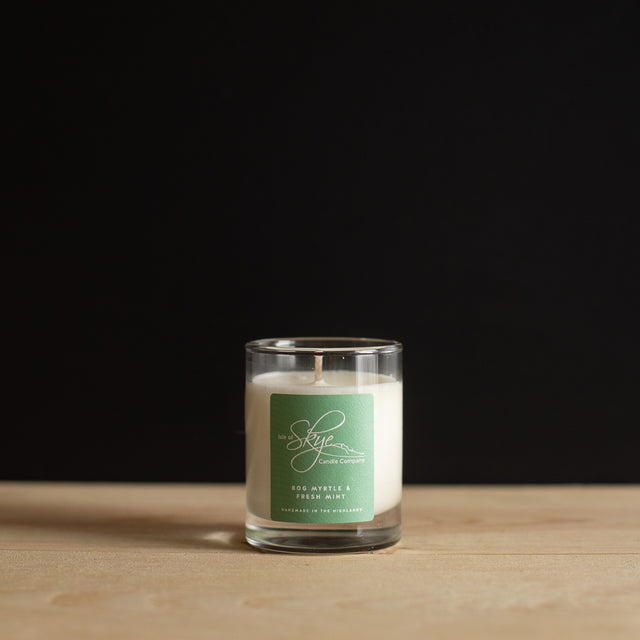 Bog Myrtle & Fresh Mint
An ever so Highland scent, with musky bog myrtle from the glens, fused with some fresh Scottish mint leaves.  Camphor and juniper berry hints have been added to create a pleasant middle note, adding to the fresh fragrance.
Scent info:
The fresh herbal aroma of bog myrtle, quite unique to Scotland was the inspiration behind the creation of this crisp fragrance. The sharpness of mint pairs up perfectly with the muskiness of bog myrtle, resulting in a cool scent that will carry throughout your home. 
Scottish Miniatures
These miniature candles are a great way to trial our scents or give as a wee thank you. They will last around 20 hours and are simply the cutest.

Are you a member of our loyalty club?
Join our loyalty plan – collect points with every purchase and choose your preferred discount or even a free T-shirt! We'll notify you of our new product releases and special offers. We don't spam. Sign up now to get 10% off your first purchase or click the 'check rewards' tab to find out your balance and new ways to collect extra points. If you would like to find out more, click here or get in touch with us!
READ MORE
Are you buying for a loved one?
You can't go wrong with gifting a beautiful candle or a reed diffuser. Take a look at our wee guide to help you pick the perfect scent.And don't forget to leave a personalised message in the cart section. We will happily include a handwritten note for you, free of charge.
CHOOSE YOUR CARD